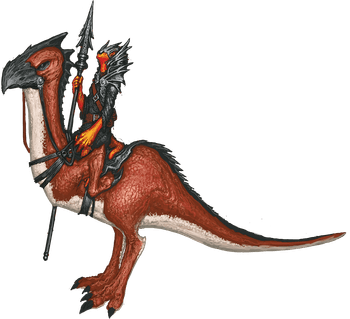 Giant Strider
Large monstrosity
Challenge

1
---
STR

4
DEX

1
CON

2
INT

−3
WIS

1
CHA

1
---
Defense note natural armor
Damage immunities fire
Condition immunities burning
---
Speed 10 m.
Skills Insight +1 (12), Perception +1 (12), Primal +3 (14)
---
Fire Absorption. Whenever the giant strider is subjected to fire damage, it takes no damage and regains an amount of health equal to half the fire damage dealt.
Maneuvers. The giant strider uses maneuvers (maneuver save DC 14). It has 1 stamina die which is a d8 and regains its stamina die when it finishes a short or long rest. It knows the following maneuvers:
1 stamina die: spring attack, sprint
Spellcasting. The giant strider uses Primal (Cha) to cast spells (spell save DC 11, +3 to hit with spell attacks). It has 1 mana, a mana limit of 1, regains all expended mana when it finishes a long rest and regains half its total mana (rounded up) when it finishes a short rest. It knows the following spells:
Cantrips (at will): produce flame
1 mana: burning hands, fiery rebuke, scorching bolts, searing burst
Actions
Bite. Melee Weapon Attack: +6 to hit, reach 1 m. Hit: 8 (1d8 + 4) piercing damage.
Fire Burst (Recharge 5–6). The giant strider hurls a gout of flame at a point it can see within 10 meters of it. Each creature in a 2-meter radius sphere centered on that point must make a DC 12 Reflex saving throw. On a failed save, a creature takes 18 (5d6) fire damage and is burning 1. On a successful save, a creature takes half as much damage and isn't burning. The fire spreads around corners, and it ignites flammable objects in that area that aren't being worn or carried.
Hill, Mountain, Underdarkvgtm
Maneuvers
As an action, you can use the Dash action. If you move at least 4 meters straight toward a creature, you can make a melee weapon attack against it. Add the stamina die to the attack's damage (add half if you miss by 4 or less).
Enhance
You can increase the damage for each additional stamina die expended.