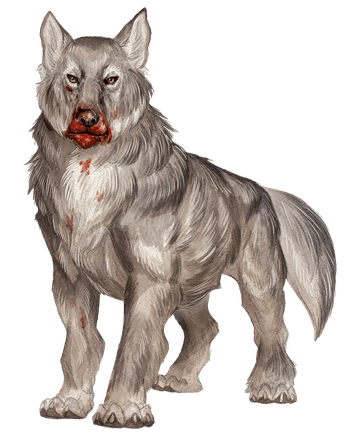 Wolf
Medium animal
Challenge

¼
---
STR

1
DEX

2
CON

1
INT

−4
WIS

1
CHA

−2
---
Defense note natural armor
---
---
Keen Hearing and Smell. The wolf has advantage on Perception checks that rely on hearing or smell.
Maneuvers. The wolf uses maneuvers (maneuver save Difficulty 12). It has 1 stamina die which is a d8 and regains its stamina die when it finishes a short or long rest. It knows the following maneuvers:
1 stamina die: lunge, spring attack, tear flesh, trip
Pack Tactics. The wolf has advantage on attacks made against a creature if at least one of the wolf's allies is within 1 meter of the creature and the ally isn't incapacitated.
Actions (1)
Bite. Melee Weapon Attack: +3 to hit. Hit: 7 (2d4 + 2) piercing damage.
Forest, Grassland, Hillsrd