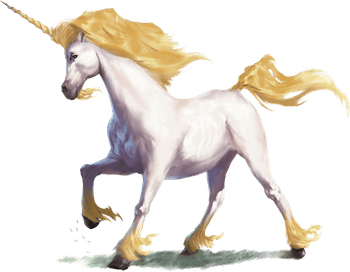 Unicorn
Large celestial
Challenge

5
---
---
Damage resistances bludgeoning, piercing, and slashing from attacks that have not been desecrated with the blood from a celestial or humanoid killed within the past 24 hours
Damage immunities poison
---
Speed 10 m.
Senses darkvision 10 m.
Languages Celestial, Elvish, Sylvan, telepathy 10 m.
---
Actions (2)
Hooves (1/turn). Melee Weapon Attack: +6 to hit. Hit: 11 (2d6 + 4) bludgeoning damage.
Horn (1/turn). Melee Weapon Attack: +6 to hit. Hit: 8 (1d8 + 4) piercing damage.
Teleport (1/long rest). The unicorn magically teleports itself and up to three willing creatures it can see within 1 meter of it, along with any equipment they are wearing or carrying, to a location the unicorn is familiar with, up to 2 kilometers away.
Legendary Actions (3)
Only one legendary option can be used at a time and only at the end of another creature's turn. The unicorn regains spent legendary actions at the start of its turn.
Heal Self. The unicorn magically regains 11 (2d8 + 2) health.
Hooves. The unicorn makes one attack with its hooves.
Shimmering Shield. The unicorn creates a shimmering, magical field around itself or another creature it can see within 10 meters of it. The target gains a +2 bonus to Defense until the end of the unicorn's next turn.
Regional effects
The region containing the unicorn's lair is warped by the unicorn's magic, which creates one or more of the following effects:
Open flames of a non magical nature are extinguished within the unicorn's domain. Torches and campfires refuse to burn, but closed lanterns are unaffected.

Creatures native to the unicorn's domain have an easier time hiding; they have advantage on all Stealth checks made to avoid notice.

When a good-aligned creature casts a spell or uses a magical effect that causes another good-aligned creature to regain health, the target regains the maximum amount of health possible for the spell or effect.

Curses affecting any good-aligned creature are suppressed.
If the unicorn dies, these effects end immediately.
Forest, Upper planesmm