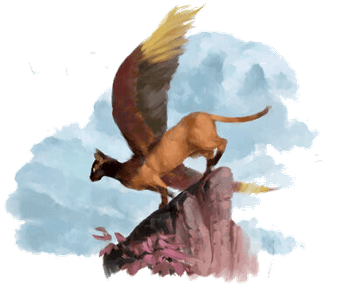 Tressym
Tiny animal
Challenge

0
---
STR

−4
DEX

2
CON

0
INT

0
WIS

1
CHA

1
---
---
Speed 7 m., climb 5 m., fly 7 m.
Senses darkvision 10 m.
Languages understands Common but can't speak
---
Detect Invisibility. within 10 meters of the tressym, magical invisibility fails to conceal anything from the tressym's sight.
Keen Smell. The tressym has advantage on Perception checks that rely on smell.
Maneuvers. The tressym uses maneuvers (maneuver save Difficulty 11). It has 1 stamina die which is a d8 and regains its stamina die when it finishes a short or long rest. It knows the following maneuvers:
1 stamina die: scurry, spring attack
Poison Sense. The tressym can detect whether a substance is poisonous by taste, touch, or smell.
Actions (1)
Claws. Melee Weapon Attack: +2 to hit. Hit: 1 slashing damage.
Desert, Forest, Grassland, Urbanskt
Maneuvers
As an action, you can use the Dash action. If you move at least 3 meters straight toward a creature, you can make a melee weapon attack against it.
On a hit, add the stamina die to the attack's damage.
On a critical hit, add twice as much damage.
On a miss by 4 or less, add half as much damage.
Enhance
You can increase the damage for each additional stamina die expended.