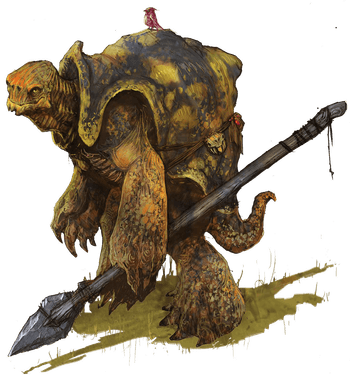 Tortle
Medium humanoid (tortle)
Challenge

¼
---
---
Defense note natural armor
---
Speed 5 m.
Languages Aquan, Common
---
Hold Breath. The tortle can hold its breath for 1 hour.
Maneuvers. The tortle uses maneuvers (maneuver save Difficulty 12). It has 1 stamina die which is a d8 and regains its stamina die when it finishes a short or long rest. It knows the following maneuvers:
1 stamina die: distant shot, impale, knockback, lunge, spring attack, trip
Actions (1)
Claws. Melee Weapon Attack: +3 to hit. Hit: 4 (1d4 + 2) slashing damage.
Spear. Melee or Ranged Weapon Attack: +3 to hit, reach 1 m. or range 3/10 m. Hit: 5 (1d6 + 2) piercing damage, or 6 (1d8 + 2) piercing damage if used with two hands to make a melee attack.
Crossbow. Ranged Weapon Attack: +1 to hit, range 10/100 m. Hit: 4 (1d8) piercing damage.
Shell Defense (1/turn). The tortle withdraws into its shell. Until it emerges, it gains a +4 bonus to Defense and has advantage on Fortitude saving throws. While in its shell, the tortle is immobilized, is prone, has disadvantage on Reflex saving throws, and can't take reactions. The tortle can emerge on its turn (no action required).
Coastalmtof