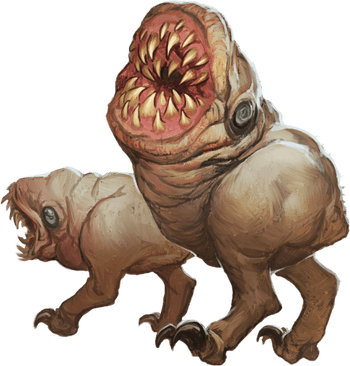 The Wretched
Small monstrosity
Challenge

¼
---
STR

−2
DEX

1
CON

−1
INT

−3
WIS

−2
CHA

−3
---
Defense note natural armor
Damage resistances bludgeoning, piercing, slashing while in dim light or darkness
---
Speed 8 m.
Senses darkvision 10 m.
---
Wretched Pack Tactics. The Wretched has advantage on an attack roll against a creature if at least one of the Wretched's allies is within 1 meter of the creature and the ally isn't incapacitated. The Wretched otherwise has disadvantage on attack rolls.
Actions
Bite. Melee Weapon Attack: +3 to hit, reach 1 m. Hit: 6 (1d10 + 1) piercing damage, and the Wretched attaches to the target. While attached, the Wretched can't attack, and at the start of each of the Wretched's turns, the target takes 6 (1d10 + 1) necrotic damage.
The attached Wretched moves with the target whenever the target moves, requiring none of the Wretched's movement. The Wretched can detach itself by spending 1 meter of its movement on its turn. A creature, including the target, can use an action to detach a Wretched.
Swamp, Underdark, Urbanmtof
No concoctions, maneuvers, or spells
All creatures in this system should have maneuvers or spells. You should add some maneuvers or spells to this creature. If you do so, please make a suggestion on github so I can finish adding maneuvers and spells to all creatures via https://github.com/mlenser/kryx-rpg-issues/issues/9