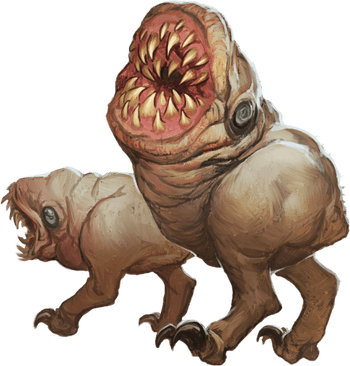 The Wretched
Small monstrosity
Challenge

¼
---
STR

−2
DEX

1
CON

−1
INT

−3
WIS

−2
CHA

−3
---
Defense note natural armor
Damage resistances bludgeoning, piercing, slashing while in dim light or darkness
---
Speed 8 m.
Senses darkvision 10 m.
---
Wretched Pack Tactics. The the wretched has advantage to attack a creature if at least one of the the wretched's allies is within 1 meter of the creature and the ally isn't incapacitated. The the wretched otherwise has disadvantage on an attack.
Actions (1)
Bite. Melee Weapon Attack: +2 to hit. Hit: 6 (1d10 + 1) piercing damage and the Wretched attaches to the target. While attached, the Wretched can't attack, and at the start of each of the Wretched's turns, the target takes 6 (1d10 + 1) necrotic damage.
The attached Wretched moves with the target whenever the target moves, requiring none of the Wretched's movement. The Wretched can detach itself by spending 1 meter of its movement on its turn. A creature, including the target, can use an action to detach a Wretched.
Swamp, Underdark, Urbanmtof