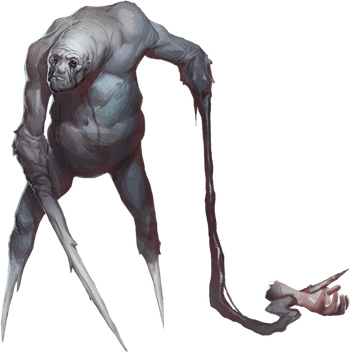 The Lonely
Medium beast
Challenge

9
---
STR

3
DEX

1
CON

3
INT

−2
WIS

0
CHA

−2
---
Defense note natural armor
Damage resistances bludgeoning, piercing, slashing while in dim light or darkness
---
Speed 5 m.
Senses darkvision 10 m.
Languages Common
---
Maneuvers. The the lonely uses maneuvers (maneuver save Difficulty 15). It has 17 stamina dice which are d8s, a dice limit of 3, regains all expended stamina dice when it finishes a long rest, and regains half its total stamina dice when it finishes a short rest. It knows the following maneuvers:
At will: grapple (Harpoon Arms only)
1 stamina die: ambush, impale, scurry, spring attack, stalking shadow
2 stamina dice: frenzy
Psychic Leech. At the start of each of the the lonely's turns, each creature within 1 meter of it must succeed on a Difficulty 15 Will saving throw or take 10 (3d6) psychic damage.
Thrives on Company. The the lonely has advantage on attack rolls while it is within 5 meters of at least two other creatures. It otherwise has disadvantage on attack rolls.
Actions (2)
Harpoon Arm. Melee Weapon Attack: +6 to hit, reach 10 m. Hit: 21 (4d8 + 3) piercing damage The Lonely has two harpoon arms and can grapple up to two creatures at once.
Coastal, Desert, Mountain, Underdark, Urbanmtof