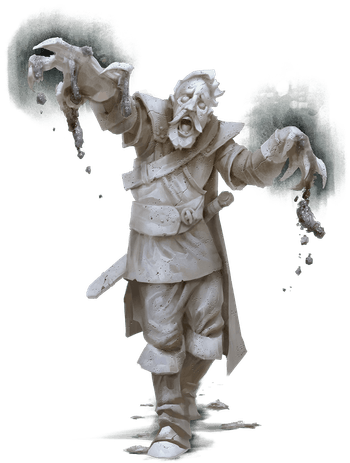 Stone Cursed
Medium construct
Challenge

1
---
STR

3
DEX

−3
CON

2
INT

−3
WIS

−1
CHA

−2
---
Defense note natural armor
Damage vulnerabilities bludgeoning
Damage immunities poison
---
Speed 2 m.
Languages the languages it knew in life
---
Cunning Opportunist. The stone cursed has advantage on the attack rolls of opportunity attacks.
False Appearance. While the stone cursed remains motionless, it is indistinguishable from a normal statue.
Maneuvers. The stone cursed uses maneuvers (maneuver save Difficulty 13). It has 2 stamina dice which are d8s, a dice limit of 1, regains all expended stamina dice when it finishes a long rest, and regains half its total stamina dice when it finishes a short rest. It knows the following maneuvers:
1 stamina die: spring attack
Actions
Petrifying Claws. Melee Weapon Attack: +5 to hit, reach 1 m. Hit: 8 (1d10 + 3) slashing damage, or 14 (2d10 + 3) slashing damage if the attack roll had advantage. If the target is a creature, it must succeed on a Difficulty 12 Fortitude saving throw, or it begins to turn to stone and is restrained until the end of its next turn, when it must repeat the saving throw. The effect ends if the second save is successful; otherwise the target is petrified for 24 hours.
Desert, Mountain, Urbanmtof
Maneuvers
As an action, you can use the Dash action. If you move at least 4 meters straight toward a creature, you can make a melee weapon attack against it. Add the stamina die to the attack's damage (add half if you miss by 4 or less).
Enhance
You can increase the damage for each additional stamina die expended.