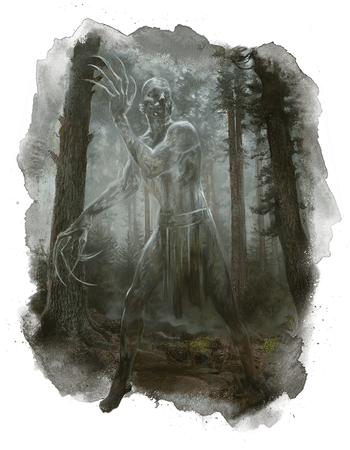 Skulk
Medium humanoid
Challenge

½
---
STR

−2
DEX

4
CON

0
INT

0
WIS

−2
CHA

−5
---
Damage immunities radiant
Condition immunities blinded
---
Speed 5 m.
Skills Insight −2 (9), Perception −2 (9), Stealth +6 (17)
Senses darkvision 20 m.
Languages understands Common but can't speak
---
Fallible Invisibility. The skulk is invisible. This invisibility can be circumvented by three things:
The skulk appears as a drab, smooth-skinned humanoid if its reflection can be seen in a mirror or on another surface.
The skulk appears as a dim, translucent form in the light of a candle made of fat rendered from a corpse whose identity is unknown.
Humanoid children, aged 10 and under, can see through this invisibility.
Trackless. The skulk leaves no tracks to indicate where it has been or where it's headed.
Actions
Claws. Melee Weapon Attack: +6 to hit, reach 1 m. Hit: 6 (1d4 + 4) slashing damage. If the skulk has advantage on the attack roll, the target also takes 7 (2d6) necrotic damage.
Coastal, Forest, Swamp, Underdark, Urbanmtof
No concoctions, maneuvers, or spells
All creatures in this system should have maneuvers or spells. You should add some maneuvers or spells to this creature. If you do so, please make a suggestion on github so I can finish adding maneuvers and spells to all creatures via https://github.com/mlenser/kryx-rpg-issues/issues/9