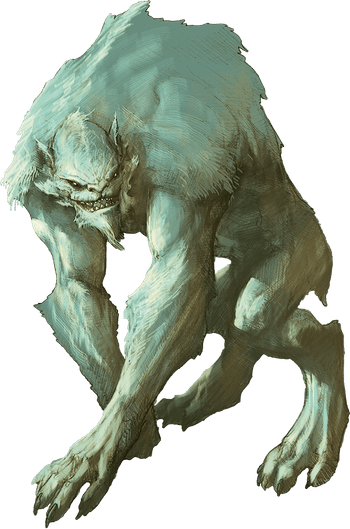 Quaggoth
Medium humanoid (quaggoth)
Challenge

2
---
STR

3
DEX

1
CON

3
INT

−2
WIS

1
CHA

−2
---
Defense note natural armor
Damage immunities poison
---
Speed 5 m., climb 5 m.
Senses darkvision 20 m.
Languages Undercommon
---
Wounded Fury. While it has 10 health or less, the quaggoth has advantage on attack rolls. In addition, it deals an extra 7 (2d6) damage to any target it hits with a melee attack.
Actions (2)
Claw. Melee Weapon Attack: +5 to hit, reach 1 m. Hit: 6 (1d6 + 3) slashing damage.
Underdarkmm
No concoctions, maneuvers, or spells
All creatures in this system should have maneuvers or spells. You should add some maneuvers or spells to this creature. If you do so, please make a suggestion on github so I can finish adding maneuvers and spells to all creatures via https://github.com/mlenser/kryx-rpg-issues/issues/9.