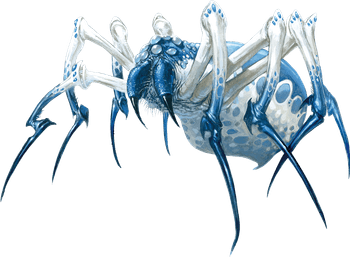 Phase Spider
Large beast
Challenge

3
---
STR

2
DEX

3
CON

1
INT

−2
WIS

0
CHA

−2
---
Defense note natural armor
---
Speed 5 m., climb 5 m.
Senses darkvision 10 m.
---
Spellcasting. The phase spider uses Arcana (wis) to cast spells (spell save Difficulty 10, +1 to hit with spell attacks). It has 3 mana, a mana limit of 1, regains all expended mana when it finishes a long rest, and regains half its total mana when it finishes a short rest. It knows the following spells:
1 mana: abscond, astral avoidance, blink, bound proximity, dimensional strike, relocate, shielding aurora, transposition
Spider Climb. The phase spider can climb difficult surfaces, including upside down on ceilings, without needing to make a skill check.
Web Walker. The phase spider ignores movement restrictions caused by webbing.
Actions (1)
Bite. Melee Weapon Attack: +4 to hit. Hit: 7 (1d8 + 3) piercing damage plus 18 (4d8) poison damage. If the poison damage reduces the target to 0 health, the target is stable but poisoned for 1 hour, even after regaining health, and is paralyzed while poisoned in this way.
Ethereal Jaunt. The phase spider can shift from the Material Plane to the Ethereal Plane, or vice versa.
Desert, Forest, Grassland, Hill, Underdark, Urbansrd