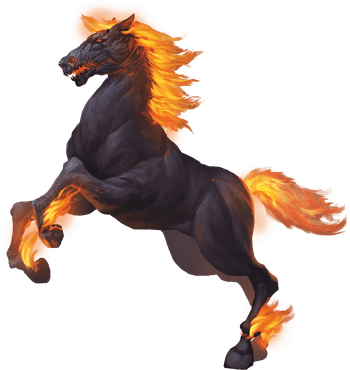 Nightmare
Large fiend
Challenge

3
---
---
Defense note natural armor
Damage immunities fire
---
Speed 10 m., fly 20 m.
Languages understands Abyssal, Common, and Infernal but can't speak
---
Confer Fire Resistance. The nightmare can grant resistance to fire damage to anyone riding it.
Illumination. The nightmare sheds bright light in a 2-meter radius and dim light for an additional 2 meters. It can extinguish the light or relight it as an action.
Actions
Hooves. Melee Weapon Attack: +6 to hit, reach 1 m. Hit: 13 (2d8 + 4) bludgeoning damage plus 7 (2d6) fire damage.
Ethereal Stride. The nightmare and up to three willing creatures within 1 meter of it magically enter the Ethereal Plane from the Material Plane, or vice versa.
No concoctions, maneuvers, or spells
All creatures in this system should have maneuvers or spells. You should add some maneuvers or spells to this creature. If you do so, please make a suggestion on github so I can finish adding maneuvers and spells to all creatures via https://github.com/mlenser/kryx-rpg-issues/issues/9.