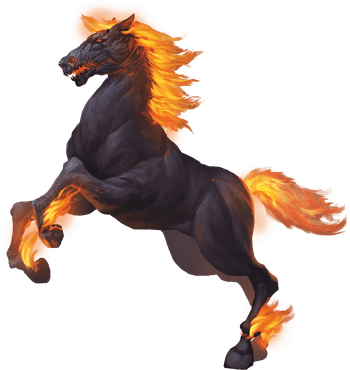 Nightmare
Large fiend
Challenge

3
---
---
Defense note natural armor
Damage immunities fire
---
Speed 10 m., fly 20 m.
Languages understands Abyssal, Common, and Infernal but can't speak
---
Confer Fire Resistance. The nightmare can grant resistance to fire damage to anyone riding it.
Illumination. The nightmare sheds bright light in a 5-meter radius and dim light for an additional 5 meters. It can extinguish the light or relight it as an action.
Maneuvers. The nightmare uses maneuvers (maneuver save Difficulty 14). It has 6 stamina dice which are d8s, a dice limit of 1, regains all expended stamina dice when it finishes a long rest, and regains half its total stamina dice when it finishes a short rest. It knows the following maneuvers:
1 stamina die: knockback, spring attack, sprint, trampling charge
Actions (1)
Hooves. Melee Weapon Attack: +5 to hit. Hit: 13 (2d8 + 4) bludgeoning damage plus 7 (2d6) fire damage.
Ethereal Stride. The nightmare and up to three willing creatures within 1 meter of it magically enter the Ethereal Plane from the Material Plane, or vice versa.