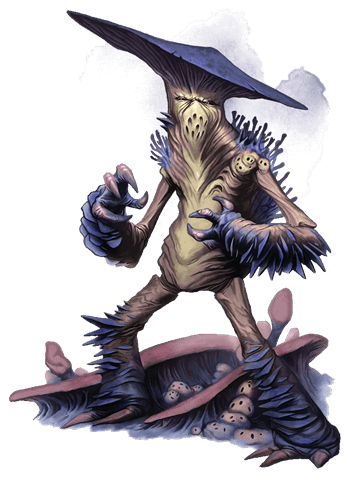 Myconid Adult
Medium plant
Challenge

½
---
STR

0
DEX

0
CON

1
INT

0
WIS

1
CHA

−2
---
Defense note natural armor
---
Speed 4 m.
Senses darkvision 20 m.
---
Distress Spores. When the myconid takes damage, all other myconids within 100 meters of it can sense its pain.
Spellcasting. The myconid adult uses Primal (Wis) to cast spells (spell save Difficulty 11, +3 to hit with spell attacks). It has 1 mana, a mana limit of 1, regains all expended mana when it finishes a long rest and regains half its total mana (rounded up) when it finishes a short rest. It knows the following spells:
Cantrips (at will): charm, empathy, lullaby
1 mana: beguile, charming presence, friends, sleep
Sun Sickness. While in sunlight, the myconid has disadvantage on ability checks, attack rolls, and saving throws. The myconid dies if it spends more than 1 hour in direct sunlight.
Actions
Fist. Melee Weapon Attack: +2 to hit, reach 1 m. Hit: 5 (2d4) bludgeoning damage plus 5 (2d4) poison damage.
Pacifying Spores (3/day). The myconid ejects spores at one creature it can see within 1 meter of it. The target must succeed on a Difficulty 11 Fortitude saving throw or be stunned for 1 minute. The target can repeat the saving throw at the end of each of its turns, ending the effect on itself on a success.
Rapport Spores. A 5-meter radius of spores extends from the myconid. These spores can go around corners and affect only creatures with an Intelligence of −4 or higher that aren't undead, constructs, or elementals. Affected creatures can communicate telepathically with one another while they are within 5 meters of each other. The effect lasts for 1 hour.
Underdarkmm
No concoctions, maneuvers, or spells
All creatures in this system should have maneuvers or spells. You should add some maneuvers or spells to this creature. If you do so, please make a suggestion on github so I can finish adding maneuvers and spells to all creatures via https://github.com/mlenser/kryx-rpg-issues/issues/9.