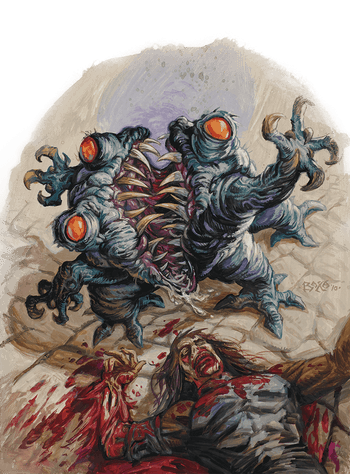 Maw Demon
Medium fiend (demon)
Challenge

1
---
STR

2
DEX

−1
CON

1
INT

−3
WIS

−1
CHA

−3
---
Defense note natural armor
Damage resistances cold, fire, lightning; bludgeoning, piercing, and slashing from attacks that aren't cold iron
Damage immunities poison
---
Speed 5 m.
Senses darkvision 10 m.
Languages understands Abyssal but can't speak
---
Maneuvers. The maw demon uses maneuvers (maneuver save Difficulty 12). It has 2 stamina dice which are d8s, a dice limit of 1, regains all expended stamina dice when it finishes a long rest, and regains half its total stamina dice when it finishes a short rest. It knows the following maneuvers:
1 stamina die: ambush, rampage, scurry, spring attack, tear flesh
Actions (1)
Bite. Melee Weapon Attack: +3 to hit. Hit: 11 (2d8 + 2) piercing damage.
Lower planes, Underdarkvgtm