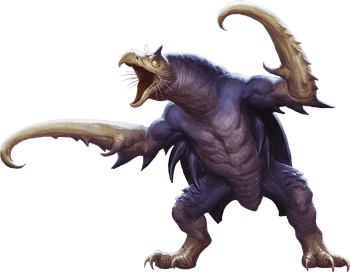 Hook Horror
Large beast
Challenge

3
---
STR

4
DEX

0
CON

2
INT

−2
WIS

1
CHA

−2
---
Defense note natural armor
---
Speed 5 m., climb 5 m.
Senses blindsight 10 m., darkvision 20 m.
Languages Hook Horror
---
Echolocation. The hook horror can't use its blindsight while deafened.
Keen Hearing. The hook horror has advantage on Perception checks that rely on hearing.
Maneuvers. The hook horror uses maneuvers (maneuver save Difficulty 14). It has 6 stamina dice which are d8s, a dice limit of 1, regains all expended stamina dice when it finishes a long rest, and regains half its total stamina dice when it finishes a short rest. It knows the following maneuvers:
1 stamina die: ambush, spring attack, swipe, trip
Actions (2)
Hook. Melee Weapon Attack: +5 to hit, reach 2 m. Hit: 11 (2d6 + 4) piercing damage.
Underdarkmm