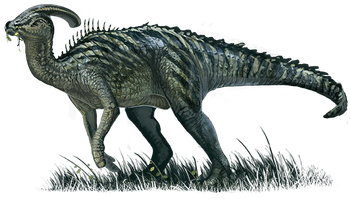 Hadrosaurus
Large animal
Challenge

¼
---
STR

2
DEX

0
CON

1
INT

−4
WIS

0
CHA

−3
---
Defense note natural armor
---
Speed 8 m.
Skills Insight +0 (11), Perception +2 (13)
Actions
Tail. Melee Weapon Attack: +4 to hit, reach 1 m. Hit: 7 (1d10 + 2) bludgeoning damage.
Grassland, Swampvgtm
Maneuvers
As an action, you can use the Dash action. If you move at least 4 meters straight toward a creature, you can make a melee weapon attack against it. Add the stamina die to the attack's damage (add half if you miss by 4 or less).
Enhance
You can increase the damage for each additional stamina die expended.