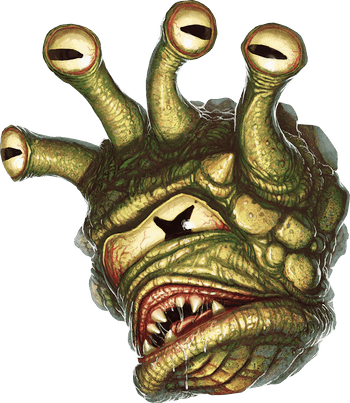 Gazer
Tiny aberration
Challenge

½
---
STR

−4
DEX

3
CON

2
INT

−4
WIS

0
CHA

−2
---
Condition immunities
prone
---
Speed 0 m., fly 5 m. (hover)
Senses darkvision 10 m.
---
Aggressive. Once on its turn, the gazer can move up to its speed toward a hostile creature that it can see.
Mimicry. The gazer can mimic simple sounds of speech it has heard, in any language. A creature that hears the sounds can tell they are imitations with a successful Insight check opposed by the gazer's passive Deception.
Spellcasting. The gazer uses Psionics (Wis) to cast spells (spell save Difficulty 10, +2 to hit with spell attacks). It has 1 mana, a mana limit of 1, regains all expended mana when it finishes a long rest and regains half its total mana (rounded up) when it finishes a short rest. It knows the following spells:
Cantrips (at will): vicious mockery
Actions
Bite. Melee Weapon Attack: +5 to hit, reach 1 m. Hit: 1 piercing damage.
Eye Rays. The gazer shoots two of the following magical eye rays at random (reroll duplicates), choosing one or two targets it can see within 10 meters of it:
Underdarkvgtm
No concoctions, maneuvers, or spells
All creatures in this system should have maneuvers or spells. You should add some maneuvers or spells to this creature. If you do so, please make a suggestion on github so I can finish adding maneuvers and spells to all creatures via https://github.com/mlenser/kryx-rpg-issues/issues/9.