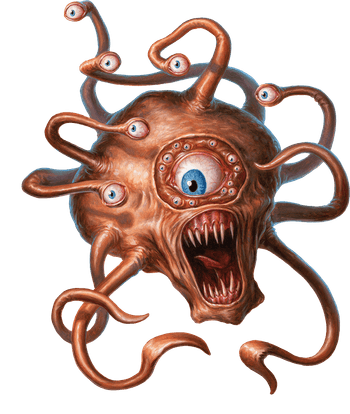 Gauth
Medium aberration
Challenge

6
---
---
Defense note natural armor
Condition immunities
prone
---
Speed 0 m., fly 4 m. (hover)
Senses darkvision 20 m.
Languages Aklo, Undercommon
---
Death Throes. When the gauth dies, the magical energy within it explodes, and each creature within 2 meters of it must make a Difficulty 14 Reflex saving throw, taking 4 (1d8) force damage on a failed save, or half as much damage on a successful one.
Spellcasting. The gauth uses Psionics (Int) to cast spells (spell save Difficulty 13, +4 to hit with spell attacks). It has 6 mana, a mana limit of 1, regains all expended mana when it finishes a long rest, and regains half its total mana when it finishes a short rest. It knows the following spells:
1 mana: dampen spell, detect magic, mana burn, purge
Stunning Gaze. If a creature starts its turn within 5 meters of the gauth and the two of them can see each other, the gauth can force the creature to make a Difficulty 14 Will saving throw if the gauth isn't incapacitated. A creature that fails the save is stunned until the start of its next turn.
Unless unaware of the gauth, a creature can avert its eyes to avoid the saving throw at the start of its turn. If the creature does so, it has disadvantage on attack rolls against the gauth until the start of its next turn. If the creature looks at the gauth in the meantime, it must immediately make the saving throw.
Actions (2)
Bite (1/turn). Melee Weapon Attack: +4 to hit. Hit: 11 (2d8 + 2) piercing damage.
Eye Rays (1/turn). The gauth shoots three of the following magical eye rays at random (reroll duplicates), choosing one to three creatures it can see within 20 meters of it:
Far Realm, Underdarkvgtm