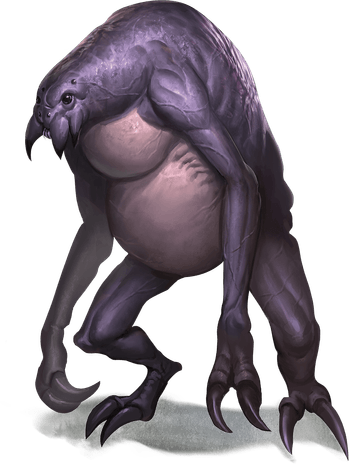 Ettercap
Medium monstrosity
Challenge

2
---
STR

2
DEX

2
CON

1
INT

−2
WIS

1
CHA

−1
---
Defense note natural armor
---
Speed 5 m., climb 5 m.
Skills Insight +1 (12), Perception +3 (14), Stealth +4 (15), Wilderness +3 (14)
Senses darkvision 10 m.
---
Maneuvers. The ettercap uses maneuvers (maneuver save DC 12). It has 7 stamina dice which are d8s, a dice limit of 1, regains all expended stamina dice when it finishes a long rest, and regains half its total stamina dice (rounded up) when it finishes a short rest. It knows the following maneuvers:
1 stamina die: ambush, grapple, inject venom (bite only), spring attack, tear flesh
Spider Climb. The ettercap can climb difficult surfaces, including upside down on ceilings, without needing to make an ability check.
Web Sense. While in contact with a web, the ettercap knows the exact location of any other creature in contact with the same web.
Web Walker. The ettercap ignores movement restrictions caused by webbing.
Actions (2)
Bite (1/turn). Melee Weapon Attack: +4 to hit, reach 1 m. Hit: 6 (1d8 + 2) piercing damage plus 4 (1d8) poison damage.
Claws (1/turn). Melee Weapon Attack: +4 to hit, reach 1 m. Hit: 7 (2d4 + 2) slashing damage.
Web (Recharge 5–6). The spider shoots a web at a Large or smaller creature that it can see within 10 meters of it. The targeted creature must succeed on a DC 12 Reflex saving throw or be restrained by the webbing. As an action, the restrained target can make a DC 11 Brawn check, bursting the webbing on a success. The webbing can also be attacked and destroyed (10 Defense; 5 Health; vulnerability to fire damage; immunity to bludgeoning, poison, and psychic damage).
Variant: Web Garrote. Melee Weapon Attack: +4 to hit, reach 1 m., one Medium or Small creature against which the ettercap has advantage on the attack roll. Hit: 4 (1d4 + 2) bludgeoning damage. If the ettecap uses the grapple maneuver, the target can't breathe, and the ettercap has advantage on attack rolls against it.