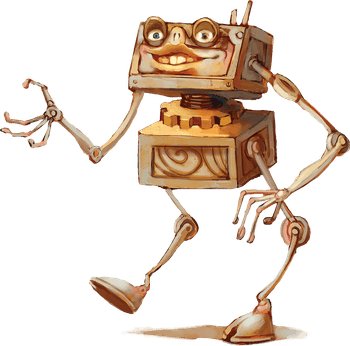 Duodrone
Medium construct
Challenge

¼
---
STR

0
DEX

1
CON

1
INT

−2
WIS

0
CHA

−2
---
Defense note natural armor
Damage immunities poison
---
Speed 5 m.
Skills
Senses truesight 20 m.
Languages Modron
---
Axiomatic Mind. The duodrone can't be compelled to act in a manner contrary to its nature or its instructions.
Disintegration. If the duodrone dies, its body disintegrates into dust, leaving behind anything it was carrying.
Maneuvers. The duodrone uses maneuvers (maneuver save Difficulty 11). It has 1 stamina die which is a d8 and regains its stamina die when it finishes a short or long rest. It knows the following maneuvers:
1 stamina die: scurry, spring attack
Actions (2)
Fist (2/turn). Melee Weapon Attack: +1 to hit. Hit: 2 (1d4) bludgeoning damage.
Spear. Melee or Ranged Weapon Attack: +1 to hit, reach 1 m. or range 3/10 m. Hit: 3 (1d6) piercing damage, or 4 (1d8) piercing damage if used with two hands to make a melee attack.
Astral Planemm
Maneuvers
As an action, you can use the Dash action. If you move at least 3 meters straight toward a creature, you can make a melee weapon attack against it.
On a hit, add the stamina die to the attack's damage.
On a critical hit, add twice as much damage.
On a miss by 4 or less, add half as much damage.
Enhance
You can increase the damage for each additional stamina die expended.