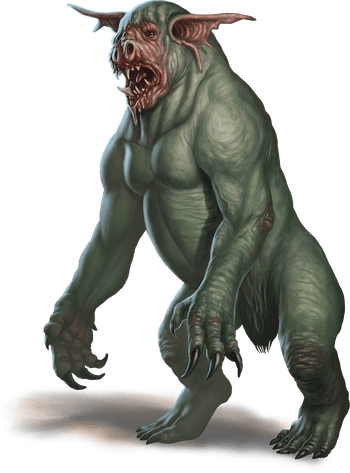 Dretch
Small fiend (demon)
Challenge

¼
---
STR

0
DEX

0
CON

1
INT

−3
WIS

−1
CHA

−4
---
Defense note natural armor
Damage resistances cold, fire, lightning; bludgeoning, piercing, and slashing from attacks that aren't cold iron
Damage immunities poison
---
Speed 4 m.
Senses darkvision 10 m.
Languages Abyssal, telepathy 10 m. (works only with creatures that understand Abyssal)
Actions (2)
Bite (1/turn). Melee Weapon Attack: +2 to hit, reach 1 m. Hit: 3 (1d6) piercing damage.
Claws (1/turn). Melee Weapon Attack: +2 to hit, reach 1 m. Hit: 5 (2d4) slashing damage.
Fetid Cloud (1/long rest). A 2-meter radius of disgusting green gas extends out from the dretch. The gas spreads around corners, and its area is lightly obscured. It lasts for 1 minute or until a strong wind (at least 30 kilometers per hour) disperses it. Any creature that starts its turn in that area must succeed on a Difficulty 11 Fortitude saving throw or be poisoned until the start of its next turn. While poisoned in this way, the target is staggered.
No concoctions, maneuvers, or spells
All creatures in this system should have maneuvers or spells. You should add some maneuvers or spells to this creature. If you do so, please make a suggestion on github so I can finish adding maneuvers and spells to all creatures via https://github.com/mlenser/kryx-rpg-issues/issues/9.