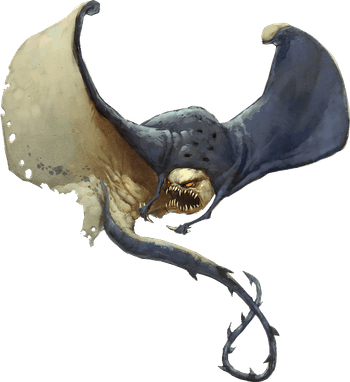 Cloaker
Large aberration
Challenge

8
---
---
Defense note natural armor
---
Speed 2 m., fly 8 m.
Senses darkvision 10 m.
Languages Aklo, Undercommon
---
Damage Transfer. While attached to a creature, the cloaker takes only half the damage dealt to it (rounded down), and that creature takes the other half.
False Appearance. While the cloaker remains motionless without its underside exposed, it is indistinguishable from a dark leather cloak.
Light Sensitivity. While in bright light, the cloaker has disadvantage on attack rolls and Perception checks that rely on sight.
Maneuvers. The cloaker uses maneuvers (maneuver save Difficulty 14). It has 23 stamina dice which are d8s, a dice limit of 3, regains all expended stamina dice when it finishes a long rest, and regains half its total stamina dice (rounded up) when it finishes a short rest. It knows the following maneuvers:
1 stamina die: ambush, dive attack, fearsome beast (as a moan), grievous wound, spring attack, stalking shadow
Actions (2)
Bite (1/turn). Melee Weapon Attack: +6 to hit, reach 1 m. Hit: 10 (2d6 + 3) piercing damage, and if the target is Large or smaller, the cloaker attaches to it. If the cloaker has advantage against the target, the cloaker attaches to the target's head, and the target is blinded and unable to breathe while the cloaker is attached. While attached, the cloaker can make this attack only against the target and has advantage on the attack roll. The cloaker can detach itself by spending 1 meter of its movement. A creature, including the target, can use an action to detach the cloaker by succeeding on a Difficulty 14 Brawn check.
Tail (1/turn). Melee Weapon Attack: +6 to hit, reach 2 m., one target not attached to the cloaker. Hit: 7 (1d8 + 3) slashing damage.
Phantasms (Recharges after a Short or Long Rest). The cloaker magically creates three illusory duplicates of itself if it isn't in bright light. The duplicates move with it and mimic its actions, shifting position so as to make it impossible to track which cloaker is the real one. If the cloaker is ever in an area of bright light, the duplicates disappear.
Whenever any creature targets the cloaker with an attack or a harmful spell while a duplicate remains, that creature rolls randomly to determine whether it targets the cloaker or one of the duplicates. A creature is unaffected by this magical effect if it can't see or if it relies on senses other than sight.
A duplicate has the cloaker's Defense and uses its saving throws. If an attack hits a duplicate, or if a duplicate fails a saving throw against an effect that deals damage, the duplicate disappears.