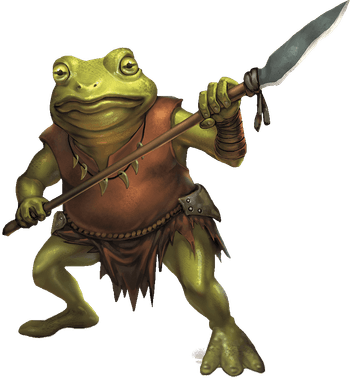 Bullywug
Medium humanoid (bullywug)
Challenge

¼
---
STR

1
DEX

1
CON

1
INT

−2
WIS

0
CHA

−2
---
Defense note hide, shield
---
Speed 4 m., swim 8 m.
Languages Bullywug
---
Amphibious. The bullywug can breathe air and water.
Speak with Frogs and Toads. The bullywug can communicate simple concepts to frogs and toads when it speaks in Bullywug.
Standing Leap. The bullywug's long jump is up to 4 meters, and its high jump is up to 2 meters, with or without a running start.
Swamp Camouflage. The bullywug has advantage on Stealth checks made to avoid being noticed in swampy terrain.
Actions (2)
Bite (1/turn). Melee Weapon Attack: +3 to hit, reach 1 m. Hit: 3 (1d4 + 1) bludgeoning damage.
Spear (1/turn). Melee or Ranged Weapon Attack: +3 to hit, reach 1 m. or range 3/10 m. Hit: 4 (1d6 + 1) piercing damage, or 5 (1d8 + 1) piercing damage if used with two hands to make a melee attack.
Swampmm
No concoctions, maneuvers, or spells
All creatures in this system should have maneuvers or spells. You should add some maneuvers or spells to this creature. If you do so, please make a suggestion on github so I can finish adding maneuvers and spells to all creatures via https://github.com/mlenser/kryx-rpg-issues/issues/9.