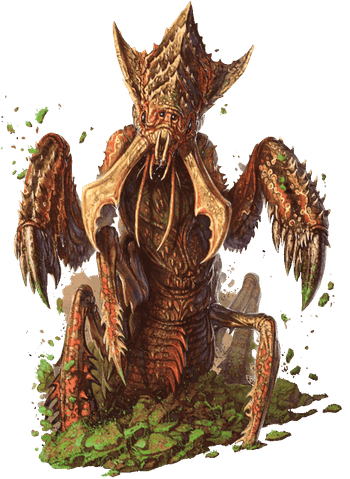 Ankheg
Large monstrosity
Challenge

2
---
STR

3
DEX

0
CON

1
INT

−5
WIS

1
CHA

−2
---
Defense note
natural armor, 12 while
prone
---
Speed 5 m., burrow 2 m.
Senses darkvision 10 m., tremorsense 10 m.
---
Maneuvers. The ankheg uses maneuvers (maneuver save Difficulty 13). It has 7 stamina dice which are d8s, a dice limit of 1, regains all expended stamina dice when it finishes a long rest, and regains half its total stamina dice (rounded up) when it finishes a short rest. It knows the following maneuvers:
1 stamina die: ambush, corrode armor, grapple (Bite only), spring attack
Tunneler. The ankheg leaves a narrow, partially collapsed tunnel in its wake.
Actions
Bite. Melee Weapon Attack: +5 to hit, reach 1 m. Hit: 10 (2d6 + 3) slashing damage plus 3 (1d6) acid damage. If the ankheg is grappling a creature, it can only bite the grappled creature and has advantage on attack rolls to do so.
Acid Spray (Recharge 6). The ankheg spits acid in a 3-meter cone or a 5-meter line, provided that it has no creature grappled. Each creature in that area must make a Difficulty 11 Reflex saving throw. On a failed save, a creature takes 18 (4d8) acid damage immediately and additional acid damage equal to half the amount of acid damage dealt at the end of its next turn. On a successful save, a creature takes half the initial damage and no damage at the end of its next turn.