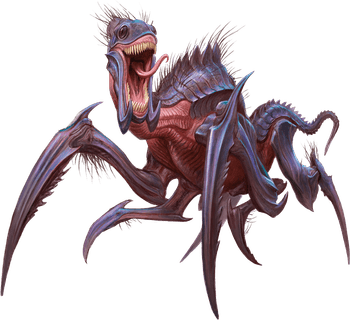 Adult Kruthik
Medium monstrosity
Challenge

2
---
STR

2
DEX

3
CON

2
INT

−2
WIS

1
CHA

−1
---
Defense note natural armor
---
Speed 8 m., burrow 4 m., climb 8 m.
Senses darkvision 10 m., tremorsense 10 m.
Languages Kruthik
---
Keen Smell. The kruthik has advantage on Perception checks that rely on smell.
Maneuvers. The adult kruthik uses maneuvers (maneuver save DC 13). It has 7 stamina dice which are d8s, a dice limit of 1, regains all expended stamina dice when it finishes a long rest, and regains half its total stamina dice (rounded up) when it finishes a short rest. It knows the following maneuvers:
1 stamina die: ambush, fountain of blood, lead the attack, pounce, rampage, spring attack, tear flesh
Pack Tactics. The kruthik has advantage on an attack roll against a creature if at least one of the kruthik's allies is within 1 meter of the creature and the ally isn't incapacitated.
Tunneler. The kruthik can burrow through solid rock at half its burrowing speed and leaves a 1-meter diameter tunnel in its wake.
Actions (2)
Stab. Melee Weapon Attack: +5 to hit, reach 1 m. Hit: 6 (1d6 + 3) piercing damage.
Spike. Ranged Weapon Attack: +5 to hit, range 3/10 m. Hit: 5 (1d4 + 3) piercing damage.
Desert, Mountain, Underdarkmtof