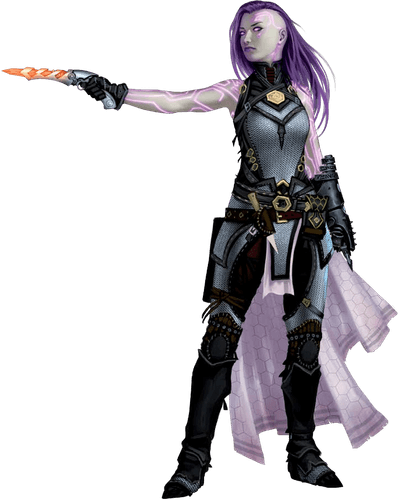 Androids' bodies are artificial, though made of materials that mimic the flexibility, shape, and density of human flesh and bone. It can be difficult to differentiate the two, but in the right light androids' alien nature is revealed by the metallic sheen in their eyes and the biological, tattoo-like circuitry that riddles their skin. Their organs mirror those of humans so well that only by examining the materials and makeup of these systems—which use sheeny oils and polymer alloys rather than blood and marrow—could one guess that their physiology is alien.
Shamans speak of great forges where androids are "born" from metal wombs and are cut from electrified umbilical cords. Even androids can't refute or verify such stories, since most who emerge from ruins do so naked and without any memories beyond their initial egress into the wide, unfamiliar world. Their complex design is unlike that of any species known, leading many to suspect that they originated from a distant star system or even another galaxy.
What separates androids from golems and other mindless constructs is that androids are living beings and as such possess souls. Similarly, androids don't live forever, though barring violence or tragedy their bodies never deteriorate. Rather, an android's cybernetic mind eventually shuts down and self-restarts after about a century, leaving its body vacant for several weeks as the old soul departs for its final reward in the Great Beyond and a fresh, new soul finds its way into the shell.
Traits
Your android character has the following traits.
Creature type. You are a Construct.
Health. Your health increases by 8.
Size. Your size is Medium and you stand between 150 centimeters and 180 centimeters tall.
Speed. Your base walking speed is 5 meters.
Age. An android's body does not deteriorate, but an android's cybernetic mind eventually shuts down and restarts itself after roughly a century.
Darkvision. Your advanced artificially-designed eyes grant you superior vision in dark and dim conditions. You can see in dim light within 10 meters of you as if it were bright light, and in darkness as if it were dim light. You can't discern color in darkness, only shades of gray.
Constructed Resilience. You were created to have remarkable fortitude, represented by the following benefits:
You have resistance to poison damage.
You don't need to eat, drink, or breathe.
You are immune to disease.
You don't need to sleep, and magic can't put you to sleep.
Standby. When you take a long rest, you must spend at least six hours in an inactive, motionless state, rather than sleeping. In this state, you appear inert, but it doesn't render you unconscious, and you can see and hear as normal.
Cybernetic Mind. You have difficulty processing your own emotions and understanding those of others. As a result, you have disadvantage on Insight checks, but you have advantage on all Will saving throws against magic.
Languages. You are proficient with Linguistics (Common) and Linguistics (one language of your choice).