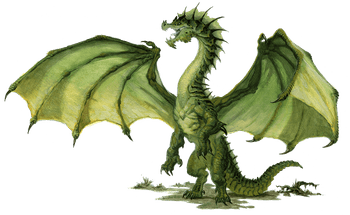 Young Green Dragon
Large dragon
Challenge

8
---
---
Defense note natural armor
Damage immunities poison
Condition immunities poisoned
---
Speed 8 m., fly 20 m., swim 8 m.
Skills Deception +5 (16), Insight +1 (12), Perception +5 (16), Stealth +5 (16)
Senses blindsight 5 m., darkvision 20 m.
Languages Common, Draconic
---
Amphibious. The dragon can breathe air and water.
Maneuvers. The young green dragon uses maneuvers (maneuver save DC 15). It has 11 stamina dice which are d8s, a dice limit of 3, regains all expended stamina dice when it finishes a long rest, and regains half its total stamina dice (rounded up) when it finishes a short rest. It knows the following maneuvers:
1 stamina die: ambush, dive attack, fearsome beast, fountain of blood, inject venom, knockback (Claw only), spring attack, swipe (Claw only)
Actions (3)
Bite (1/turn). Melee Weapon Attack: +7 to hit, reach 2 m. Hit: 15 (2d10 + 4) piercing damage plus 7 (2d6) poison damage.
Claw (2/turn). Melee Weapon Attack: +7 to hit, reach 1 m. Hit: 11 (2d6 + 4) slashing damage.
Poison Breath (Costs 2 actions; Recharge 5–6). The dragon exhales poisonous gas in a 10-meter cone or line. Each creature in that area must make a DC 14 Fortitude saving throw. On a failed save, a creature takes 58 (9d12) poison damage and is poisoned for 1 minute. On a successful save, a creature takes half as much damage and isn't poisoned. A creature can repeat the saving throw at the end of each of its turns, ending the effect on itself on a success.