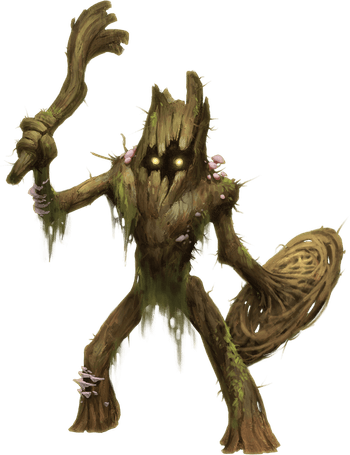 Wood Woad
Medium plant
Challenge

5
---
STR

4
DEX

1
CON

3
INT

0
WIS

1
CHA

−1
---
Defense note natural armor, shield
Damage vulnerabilities fire
Damage resistances bludgeoning, piercing
Condition immunities charmed, frightened
---
Speed 5 m., climb 5 m.
Skills Athletics +7 (18), Brawn +7 (18), Insight +1 (12), Perception +4 (15), Stealth +4 (15)
Senses darkvision 10 m.
Languages Sylvan
---
Magic Club. In the wood woad's hand, its club is magical and deals 7 (3d4) extra damage (included in its attacks).
Maneuvers. The wood woad uses maneuvers (maneuver save DC 15). It has 7 stamina dice which are d8s, a dice limit of 2, regains all expended stamina dice when it finishes a long rest, and regains half its total stamina dice (rounded up) when it finishes a short rest. It knows the following maneuvers:
1 stamina die: block blow, bonecrush, covering strike, hammer through, hammering blow, knockback, spring attack, sturdy stance
Plant Camouflage. The wood woad has advantage on Stealth checks it makes in any terrain with ample obscuring plant life.
Regeneration. The wood woad regains 10 health at the start of its turn if it is in contact with the ground. While the wood woad is able to regenerate, it does not become wounded or incapacitated as a result of regaining health. If the wood woad takes fire damage, this trait doesn't function at the start of the wood woad's next turn. The wood woad dies only if it starts its turn with 0 health and doesn't regenerate.
Spellcasting. The wood woad's spellcasting ability is Wisdom (spell save DC 12, +4 to hit with spell attacks). It has 2 mana, a mana limit of 1, regains all expended mana when it finishes a long rest and regains half its total mana when it finishes a short rest. It knows the following spells:
Cantrips (at will, 6th-level spellcaster): druidcraft, thorn bola, thorn whip
1 mana: ensnare, goodberry, locate plants, protection from poison, regrowth, vine lash
Tree Stride. Once on each of its turns, the wood woad can use 2 meters of its movement to step magically into one living tree within 1 meter of it and emerge from a second living tree within 10 meters of it that it can see, appearing in an unoccupied space within 1 meter of the second tree. Both trees must be Large or bigger.
Actions (2)
Club. Melee Weapon Attack: +7 to hit, reach 1 m. Hit: 14 (4d4 + 4) bludgeoning damage.
Forestvgtm