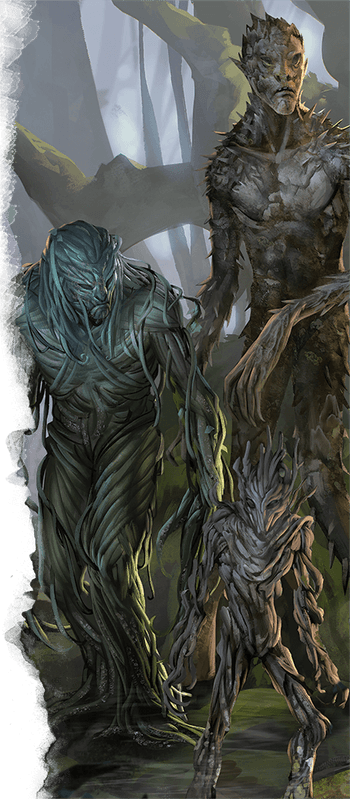 Vine Blight
Medium plant
Challenge

½
---
STR

2
DEX

−1
CON

2
INT

−3
WIS

0
CHA

−4
---
Defense note natural armor
Condition immunities blinded, deafened
---
Speed 2 m.
Skills Insight +0 (11), Perception +0 (11), Stealth +1 (12)
Senses blindsight 10 m. (blind beyond this radius)
Languages Common
---
False Appearance. While the blight remains motionless, it is indistinguishable from a tangle of vines.
Maneuvers. The vine blight uses maneuvers (maneuver save DC 12). It has 2 stamina dice which are d8s, a dice limit of 1, regains all expended stamina dice when it finishes a long rest, and regains half its total stamina dice when it finishes a short rest. It knows the following maneuvers:
At will: grapple (Constrict only)
1 stamina die: ambush, grievous wound, spring attack, stalking shadow
Actions
Constrict. Melee Weapon Attack: +4 to hit, reach 2 m. Hit: 9 (2d6 + 2) bludgeoning damage. If the blight uses the grapple maneuver, the target is restrained until the grapple ends, and the blight can't constrict another target.
Entangling Plants (Recharge 5–6). Grasping roots and vines sprout in a 3-meter radius centered on the blight, withering away after 1 minute. For the duration, that area is difficult terrain for nonplant creatures. In addition, each creature of the blight's choice in that area when the plants appear must succeed on a DC 12 Reflex saving throw or become restrained. A creature can use an action to make a DC 12 Brawn check, freeing it self or another entangled creature within reach on a success.
Forestmm