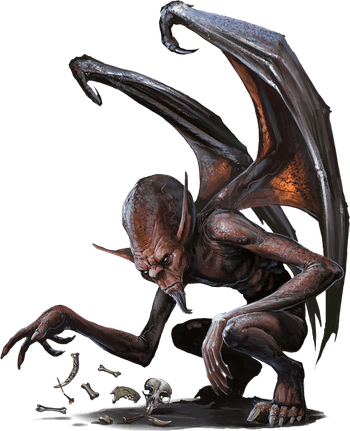 Berbalang
Medium aberration
Challenge

2
---
STR

−1
DEX

3
CON

−1
INT

3
WIS

0
CHA

0
---
Defense note natural armor
---
Speed 5 m., fly 8 m.
Skills Insight +2 (13), Occult +5 (16), Perception +2 (13)
Senses truesight 20 m.
Languages all, but rarely speaks
Actions (2)
Bite. Melee Weapon Attack: +5 to hit, reach 1 m. Hit: 8 (1d10 + 3) piercing damage.
Claws. Melee Weapon Attack: +5 to hit, reach 1 m. Hit: 8 (2d4 + 3) slashing damage.
Spectral Duplicate (Recharges after a Short or Long Rest). The berbalang creates one spectral duplicate of itself in an unoccupied space it can see within 10 meters of it. While the duplicate exists, the berbalang is unconscious. A berbalang can have only one duplicate at a time. The duplicate disappears when it or the berbalang drops to 0 health or when the berbalang dismisses it (no action required).
The duplicate has the same statistics and knowledge as the berbalang, and everything experienced by the duplicate is known by the berbalang. All damage dealt by the duplicate's attacks is psychic damage.
Desertmtof