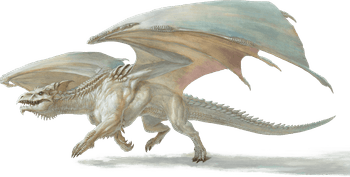 Young White Dragon
Large dragon
Challenge

8
---
STR

5
DEX

2
CON

4
INT

−2
WIS

0
CHA

1
---
Defense note natural armor
Damage immunities cold
---
Speed 8 m., burrow 4 m., fly 20 m., swim 8 m.
Senses blindsight 5 m., darkvision 20 m.
Languages Common, Draconic
---
Ice Walk. The young white dragon can move across and climb icy surfaces without needing to make a skill check. Additionally, difficult terrain composed of ice or snow doesn't cost it extra moment.
Spellcasting. The young white dragon uses Primal (cha) to cast spells (spell save Difficulty 12, +3 to hit with spell attacks). It has 4 mana, a mana limit of 2, regains all expended mana when it finishes a long rest, and regains half its total mana when it finishes a short rest. It knows the following spells:
Cantrips (at will, 10th-level spellcaster): form ice, frostbite
1 mana: chilling strike, cold snap, command, cone of cold, fear, freezing weapon, frost armor, frost nova, frostburn, ice block, ice knife, ice slick, ice spear, protection from cold, snow storm, winter's bite
2 mana: animate ice, cold fog, freeze, freezing sphere, frost bane, ice storm, wall of ice
Actions (3)
Bite (1/turn). Melee Weapon Attack: +7 to hit, reach 2 m. Hit: 14 (2d8 + 5) piercing damage plus 4 (1d8) cold damage.
Claw (2/turn). Melee Weapon Attack: +7 to hit. Hit: 12 (2d6 + 5) slashing damage.
Cold Breath (Costs 2 actions; Recharge 5–6). The young white dragon exhales an icy blast in a 5-meter cone or line. Each creature in that area must make a Difficulty 15 Fortitude saving throw. On a failure, a creature takes 44 (8d10) cold damage and is slowed 2. On a success, a creature takes half as much damage and isn't slowed.