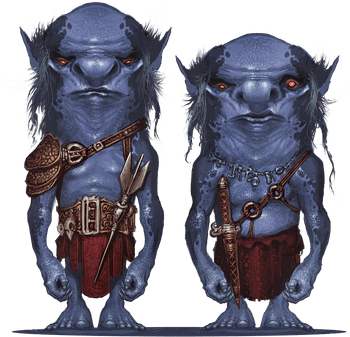 Xvart Warlock of Raxivort
Small humanoid (xvart)
Challenge
---
STR

−1
DEX

2
CON

1
INT

−1
WIS

0
CHA

1
---
---
Speed 5 m.
Skills Occult (cha) +2 (13), Stealth +3 (14)
Senses darkvision 5 m.
Languages Abyssal
---
Low Cunning. Once on its turn, the xvart warlock of raxivort can use the Disengage action without using an action.
Overbearing Pack. The xvart warlock of raxivort has advantage on Brawn checks to shove a creature if at least one of the xvart warlock of raxivort's allies is within 1 meter of the target and the ally isn't incapacitated.
Raxivort's Tongue. The xvart warlock of raxivort can communicate with ordinary bats and rats, as well as giant bats and giant rats.
Spellcasting. The xvart warlock of raxivort uses Occult (cha) to cast spells (spell save Difficulty 11, +2 to hit with spell attacks). It has 2 mana, a mana limit of 1, regains all expended mana when it finishes a long rest, and regains half its total mana when it finishes a short rest. It knows the following spells:
Cantrips (at will): animal friendship, blind spot, chaos orb, hidden object, manipulate sound, mercy, minor illusion, primal savagery, thaumaturgy
1 mana: animal messenger, aquatic adaptation, bestial transformation, blur, call steed, chaos abated, chaos bolt, chaotic weapon, climbing claws, cocoon, compelled surge, confusion, control sound, cutting words, deceive, disguise, entropic shield, false sensory input, illusory script, image, invisibility, locate animals, magic mouth, mirror image, mirrored strike, misdirection, natural weapons, pass without trace, phantom steed, prismatic spray, silence, speak with animals, tough hide, unnerve animals, warg, webshooter, wild companion, wild guesses, wild magic sphere, wild outbreaks, winged flight
Actions (1)
Scimitar. Melee Weapon Attack: +3 to hit. Hit: 5 (1d6 + 2) slashing damage.
Dagger. Melee or Ranged Weapon Attack: +3 to hit, reach 1 m. or range 3/10 m. Hit: 4 (1d4 + 2) piercing damage.
Hill, Underdarkvgtm