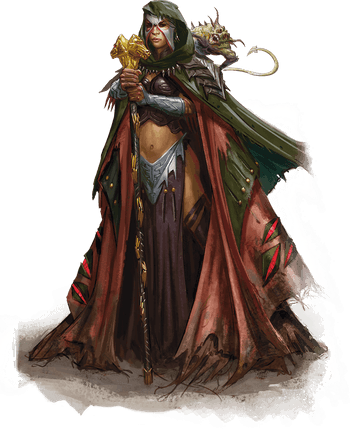 Warlock of the Fiend
Medium humanoid (any species)
Challenge

7
---
---
Defense note −2 without blood armor
---
Speed 5 m.
Senses darkvision 10 m.
Languages any two languages (usually Abyssal or Infernal)
---
Spellcasting. The warlock of the fiend uses Occult (int) to cast spells (spell save Difficulty 12, +3 to hit with spell attacks). It has 14 mana, a mana limit of 3, regains all expended mana when it finishes a long rest, and regains half its total mana when it finishes a short rest. It knows the following spells:
Cantrips (at will, 9th-level spellcaster): burn, cauterize wound, control flames, produce flame, thaumaturgy
1 mana: agonizing bargain, ash fall, blood armor, burning hands, ceremony, continual flame, detect evil and good, disguise, divine emissary, divine word, fiery rebuke, find steed, flaming weapon, hinder, immolation, protection from evil and good, protection from fire, pyrotechnics, rising phoenix, sanctuary, scorching bolts, searing burst, searing strike, shield of faith, twist fate
2 mana: animate flames, bane, bestow curse, commune, fiendish calling, fireball, flame bane, flaming sphere, guardian of faith, hallow, heat metal, hurl through hell, incendiary cloud, leathery wings, minute meteors, molten upheaval, spirit guardians, spiritual weapon, wall of fire
3 mana: ancient curse, dispel evil and good
Actions (2)
Dagger. Melee or Ranged Weapon Attack: +4 to hit, reach 1 m. or range 3/10 m. Hit: 4 (1d4 + 2) piercing damage plus 3 (1d6) fire damage.
Arctic, Desert, Underdark, Urbanvgtm