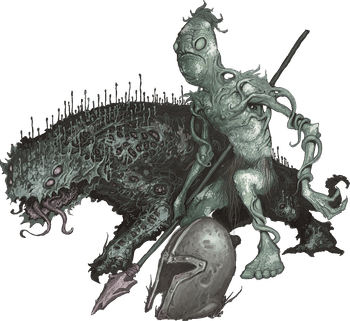 Vegepygmy
Small plant
Challenge

¼
---
STR

−2
DEX

2
CON

1
INT

−2
WIS

0
CHA

−2
---
Defense note natural armor
Damage resistances lightning, piercing
---
Speed 5 m.
Senses darkvision 10 m.
Languages Vegepygmy
---
Plant Camouflage. The vegepygmy has advantage on Stealth checks it makes in any terrain with ample obscuring plant life.
Regeneration. The vegepygmy regains 3 health at the start of each of its turns. While the vegepygmy is able to regenerate, it does not become wounded or incapacitated as a result of regaining health. If the vegepygmy takes cold, fire, or necrotic damage, this trait doesn't function at the start of the vegepygmy's next turn. The vegepygmy dies only if it starts its turn with 0 health and doesn't regenerate.
Spellcasting. The vegepygmy uses Primal (wis) to cast spells (spell save Difficulty 10, +1 to hit with spell attacks). It can cast the following spells:
Cantrips (at will): poison spray
1 mana: blinding poison, confusion poison, detect poison, envenomed weapon, lingering poison, poison burst, poisoning strike, protection from poison, putrefy food and drink, sicken, slowing poison, toxic fumes
Actions (1)
Claws. Melee Weapon Attack: +3 to hit. Hit: 5 (1d6 + 2) slashing damage.
Sling. Ranged Weapon Attack: +3 to hit, range 5/20 m. Hit: 4 (1d4 + 2) bludgeoning damage.
Forest, Swampvgtm