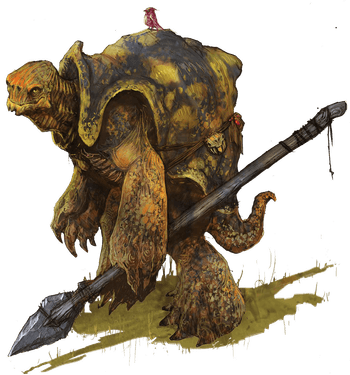 Tortle Druid
Medium humanoid (tortle)
Challenge

2
---
---
Defense note natural armor
---
Speed 5 m.
Languages Aquan, Common
---
Hold Breath. The tortle druid can hold its breath for 1 hour.
Spellcasting. The tortle druid uses Primal (wis) to cast spells (spell save Difficulty 12, +3 to hit with spell attacks). It has 5 mana, a mana limit of 1, regains all expended mana when it finishes a long rest, and regains half its total mana when it finishes a short rest. It knows the following spells:
Cantrips (at will): animal friendship, druidcraft, primal savagery, shillelagh, thorn bola, thorn whip
1 mana: animal messenger, aquatic adaptation, barkskin, bestial transformation, call steed, climbing claws, cocoon, ensnare, ensnaring strike, goodberry, locate animals, locate plants, natural weapons, protection from poison, regrowth, speak with animals, tough hide, unnerve animals, vine lash, warg, webshooter, wild companion, winged flight
Actions (1)
Claws. Melee Weapon Attack: +3 to hit. Hit: 4 (1d4 + 2) slashing damage.
Quarterstaff. Melee Weapon Attack: +3 to hit. Hit: 6 (1d8 + 2) bludgeoning damage.
Shell Defense (1/turn). The tortle druid withdraws into its shell. Until it emerges, it gains a +4 bonus to Defense and has advantage on Fortitude saving throws. While in its shell, the tortle druid is immobilized, is prone, has disadvantage on Reflex saving throws, and can't take reactions. The tortle druid can emerge on its turn (no action required).
Coastalmtof