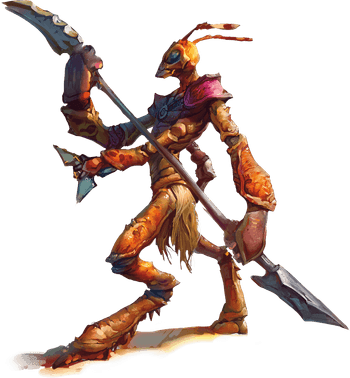 Thri-kreen (Psionic)
Medium humanoid (thri kreen)
Challenge

1
---
STR

1
DEX

2
CON

1
INT

−1
WIS

1
CHA

−2
---
Defense note natural armor
---
Speed 8 m.
Senses darkvision 10 m.
Languages Kreen
---
Chameleon Carapace. The thri-kreen can change the color of its carapace to match the color and texture of its surroundings. As a result, it has advantage on Stealth checks made to avoid being noticed.
Natural Jumper. The thri-kreen can jump twice as far as a human. Double its Athletics result to determine how far it can jump.
Spellcasting. The thri-kreen (psionic) uses Psionics (Wis) to cast spells (spell save Difficulty 11, +3 to hit with spell attacks). It has 1 mana, a mana limit of 1, regains all expended mana when it finishes a long rest and regains half its total mana (rounded up) when it finishes a short rest. It knows the following spells:
Cantrips (at will): minor telekinesis
1 mana: blur, invisibility (self only)
Actions (2)
Bite (1/turn). Melee Weapon Attack: +3 to hit, reach 1 m. Hit: 4 (1d6 + 1) piercing damage, and the target must succeed on a Difficulty 11 Fortitude saving throw or be poisoned for 1 minute. If the saving throw fails by 5 or more, the target is also paralyzed while poisoned in this way. The poisoned target can repeat the saving throw at the end of each of its turns, ending the effect on itself on a success.
Claw. Melee Weapon Attack: +3 to hit, reach 1 m. Hit: 6 (2d4 + 1) slashing damage.
Gythka. Melee Weapon Attack: +3 to hit, reach 1 m. Hit: 5 (1d8 + 1) slashing damage.
Chatkcha. Ranged Weapon Attack: +4 to hit, range 5/20 m. Hit: 5 (1d6 + 2) slashing damage.
Desert, Grasslandmm
No concoctions, maneuvers, or spells
All creatures in this system should have maneuvers or spells. You should add some maneuvers or spells to this creature. If you do so, please make a suggestion on github so I can finish adding maneuvers and spells to all creatures via https://github.com/mlenser/kryx-rpg-issues/issues/9.