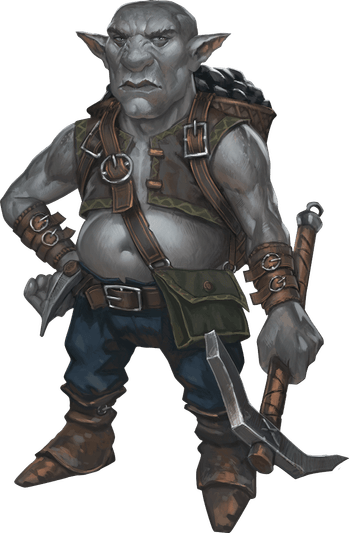 Svirfneblin
Small humanoid (gnome)
Challenge

½
---
STR

2
DEX

2
CON

2
INT

1
WIS

0
CHA

−1
---
Defense note chain hauberk
---
Speed 4 m.
Senses darkvision 20 m.
Languages Gnomish, Terran, Undercommon
---
Gnome Cunning. The gnome has advantage on Will saving throws against magic.
Spellcasting. The svirfneblin uses Psionics (Int) to cast spells (spell save Difficulty 11, +3 to hit with spell attacks). It has 1 mana, a mana limit of 1, regains all expended mana when it finishes a long rest and regains half its total mana (rounded up) when it finishes a short rest. It knows the following spells:
At will: nondetection (self only)
Stone Camouflage. The gnome has advantage on Stealth checks made to avoid being noticed in rocky terrain.
Actions
Warpick. Melee Weapon Attack: +4 to hit, reach 1 m. Hit: 6 (1d8 + 2) piercing damage, or 7 (1d10 + 2) piercing damage if used with two hands.
Poisoned Dart. Ranged Weapon Attack: +4 to hit, range 3/10 m. Hit: 4 (1d4 + 2) piercing damage, and the target must succeed on a Difficulty 12 Fortitude saving throw or be poisoned for 1 minute. The target can repeat the saving throw at the end of each of its turns, ending the effect on itself on a success.
No concoctions, maneuvers, or spells
All creatures in this system should have maneuvers or spells. You should add some maneuvers or spells to this creature. If you do so, please make a suggestion on github so I can finish adding maneuvers and spells to all creatures via https://github.com/mlenser/kryx-rpg-issues/issues/9.