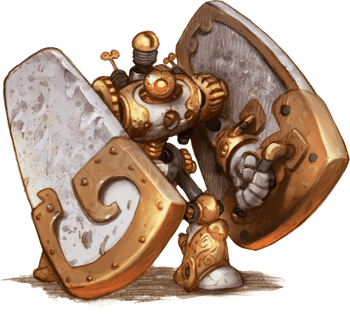 Stone Defender
Medium construct
Challenge

4
---
STR

4
DEX

0
CON

3
INT

−4
WIS

0
CHA

−5
---
Defense note natural armor, shield
Damage vulnerabilities concussion
Damage immunities poison; bludgeoning, piercing, and slashing from attacks that aren't adamantine
---
Speed 5 m.
Skills
Senses darkvision 10 m.
Languages understands one language of its creator but can't speak
---
False Appearance. While the stone defender remains motionless against an uneven earthen or stone surface, it is indistinguishable from that surface.
Magic Resistance. The stone defender has advantage on saving throws against spells and other magical effects.
Maneuvers. The stone defender uses maneuvers (maneuver save Difficulty 14). It has 8 stamina dice which are d8s, a dice limit of 2, regains all expended stamina dice when it finishes a long rest, and regains half its total stamina dice when it finishes a short rest. It knows the following maneuvers:
1 stamina die: block blow, bonecrush, covering strike, debilitating crush, disorient, goading strike, grapple, hammer through, hammering blow, knockback, sacrifice, shield bash, spring attack, trip, unwavering mark
2 stamina dice: disarm, tremoring strike, vengeance
Actions (2)
Slam. Melee Weapon Attack: +5 to hit. Hit: 11 (2d6 + 4) bludgeoning damage.
Forest, Grassland, Hill, Mountainmtof