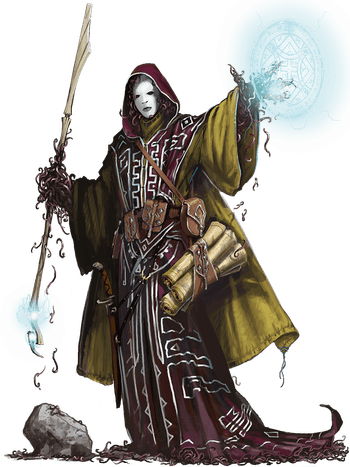 Star Spawn Larva Mage
Medium aberration
Challenge

16
---
---
Defense note natural armor
Damage resistances cold
Damage immunities psychic
---
Speed 5 m.
Senses darkvision 10 m.
Languages Aklo
---
Return to Worms. When the larva mage is reduced to 0 health, it breaks apart into a swarm of insects in the same space. Unless the swarm is destroyed, the larva mage reforms from it 24 hours later.
Spellcasting. The star spawn larva mage uses Occult (Int) to cast spells (spell save Difficulty 17, +9 to hit with spell attacks). It has 30 mana, a mana limit of 5, regains all expended mana when it finishes a long rest and regains half its total mana when it finishes a short rest. It knows the following spells:
Cantrips (at will, 20th-level spellcaster): poison spray
1 mana: confusion poison, detect poison, poison burst, protection from poison, putrefy food and drink, ray of sickness, slowing poison, toxic fumes
2 mana: cloudkill, halo of spores, insanity mist, mind control, neutralize poison, noxious plume, paralytic poison, poison bane, stinking cloud
Actions (2)
Slam. Melee Weapon Attack: +8 to hit, reach 2 m. Hit: 7 (1d8 + 3) bludgeoning damage, and the target must succeed on a Difficulty 19 Fortitude saving throw or be poisoned until the end of its next turn.
Plague of Worms (Recharge 6). Each creature other than a star spawn within 2 meters of the larva mage must make a Difficulty 19 Reflex saving throw. On a failure the target takes 22 (5d8) necrotic damage and is blinded and restrained by masses of swarming worms. The affected creature takes 22 (5d8) necrotic damage at the start of each of the larva mage's turns. The creature can repeat the saving throw at the end of each of its turns, ending the effect on itself on a success.
Reactions
Feed on Weakness. When a creature within 4 meters of the larva mage fails a saving throw, the larva mage gains 10 temporary health.
Legendary Actions (3)
Only one legendary option can be used at a time and only at the end of another creature's turn. The star spawn larva mage regains spent legendary actions at the start of its turn.
Cantrip. The larva mage casts one cantrip.
Feed. Each creature restrained by the larva mage's Plague of Worms takes 13 (3d8) necrotic damage, and the larva mage gains 6 temporary health.
Slam. The larva mage makes one slam attack.
Mountainmtof
No concoctions, maneuvers, or spells
All creatures in this system should have maneuvers or spells. You should add some maneuvers or spells to this creature. If you do so, please make a suggestion on github so I can finish adding maneuvers and spells to all creatures via https://github.com/mlenser/kryx-rpg-issues/issues/9.