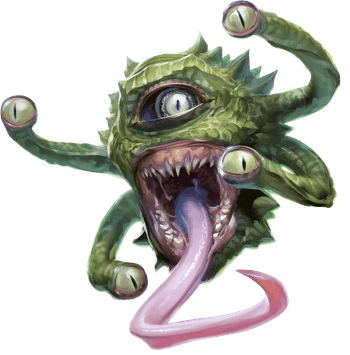 Spectator
Medium aberration
Challenge

3
---
STR

−1
DEX

2
CON

2
INT

2
WIS

1
CHA

0
---
Defense note natural armor
Condition immunities
prone
---
Speed 0 m., fly 5 m. (hover)
Senses darkvision 20 m.
Languages Aklo, Undercommon, telepathy 20 m.
---
Spellcasting. The spectator uses Arcana (int) to cast spells (spell save Difficulty 12, +3 to hit with spell attacks). It has 3 mana, a mana limit of 1, regains all expended mana when it finishes a long rest, and regains half its total mana when it finishes a short rest. It knows the following spells:
1 mana: dampen spell, detect magic, mana burn, purge
Actions (1)
Bite. Melee Weapon Attack: +0 to hit. Hit: 2 (1d6 − 1) piercing damage.
Eye Rays (1/turn). The spectator shoots up to two of the following magical eye rays at random (reroll duplicates), choosing one to three creatures it can see within 20 meters of it:
Create Food and Water. The spectator magically creates enough food and water to sustain itself for 24 hours.
Reactions
Spell Reflection. If the the spectator makes a successful saving throw against a spell, or a spell attack misses it, the the spectator can choose another creature (including the spellcaster) it can see within 5 meters of it. The spell targets the chosen creature instead of the the spectator. If the spell forced a saving throw, the chosen creature makes its own save. If the spell was an attack, the attack is reflected at the chosen creature.
Far Realm, Underdarkmm