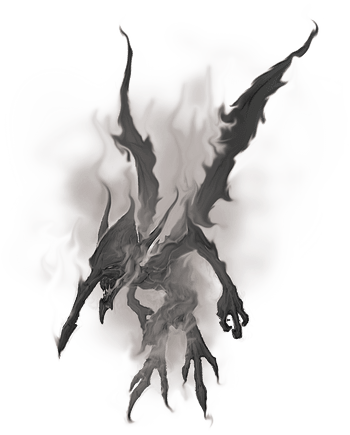 Smoke Mephit
Small elemental
Challenge
---
STR

−2
DEX

2
CON

1
INT

0
WIS

0
CHA

0
---
Damage immunities fire, poison
Condition immunities bleeding, burning, poisoned
---
Speed 5 m., fly 5 m.
Skills Perception +1 (12), Primal (cha) +1 (12), Stealth +3 (14)
Senses darkvision 10 m.
Languages Auran, Ignan
---
Death Burst. When the smoke mephit dies, it leaves behind a cloud of smoke that fills a 1-meter radius sphere centered on its space. The sphere is heavily obscured. Wind disperses the cloud, which otherwise lasts for 1 minute.
Spellcasting. The smoke mephit uses Primal (cha) to cast spells (spell save Difficulty 10, +1 to hit with spell attacks). It can cast the following spells:
Cantrips (at will): cloud senses, control shadow, gloom, shadow blade
1 mana: cloak of shadows, darkness, five shadows, obscure, obscuring strike, pass without trace, shadow anchor, shadow jaunt, shadow tendrils, shadow veil, shadowy reprisal, silence, umbral weapon, unseen servant
Actions (1)
Claws. Melee Weapon Attack: +3 to hit. Hit: 4 (1d4 + 2) slashing damage.
Summon Mephits (1/long rest). The smoke mephit has a 25 percent chance of summoning 1d4 mephits of its kind. A summoned mephit appears in an unoccupied space within 10 meters of the smoke mephit, acts as its ally, and can't summon other mephits. It remains for 1 minute, until it or the smoke mephit dies, or until the smoke mephit dismisses it on its turn (no action required).
Elemental planes, Urbanmm