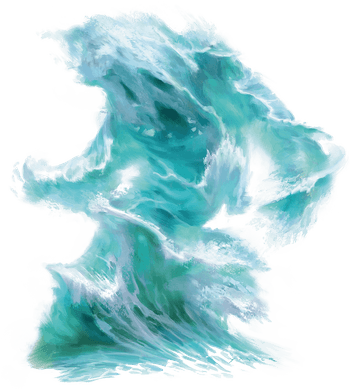 Small Water Elemental
Small elemental
Challenge
---
STR

2
DEX

1
CON

2
INT

−3
WIS

−1
CHA

0
---
Damage resistances acid, fire; bludgeoning, piercing, and slashing from nonmagical attacks
Damage immunities poison
Condition immunities bleeding, burning, exhausted, grappled, paralyzed, petrified, poisoned, prone, restrained, unconscious
---
Speed 4 m., swim 5 m.
Skills Primal (cha) +1 (12)
Senses darkvision 10 m.
Languages Aquan
---
Freeze. If the small water elemental takes cold damage, it partially freezes; its speed is halved until the end of its next turn.
Invisible in Water. The small water elemental is invisible while fully immersed in water.
Spellcasting. The small water elemental uses Primal (cha) to cast spells (spell save Difficulty 10, +1 to hit with spell attacks). It has 1 mana, a mana limit of 1, regains all expended mana when it finishes a long rest, and regains half its total mana when it finishes a short rest. It knows the following spells:
Cantrips (at will): hydraulic push, shape water
1 mana: aquatic adaptation, desiccate, ebb and flow, fog cloud, liquid body, locate water, rain, slick skin, tidal break, tidal surge, water jet, water whip
Water Form. The small water elemental can enter a hostile creature's space and stop there. It can move through a space as narrow as 2 centimeters wide without squeezing.
Actions (1)
Slam. Melee Weapon Attack: +3 to hit. Hit: 4 (1d4 + 2) bludgeoning damage.
Coastal, Elemental planes, Swamp, Underwatersrd