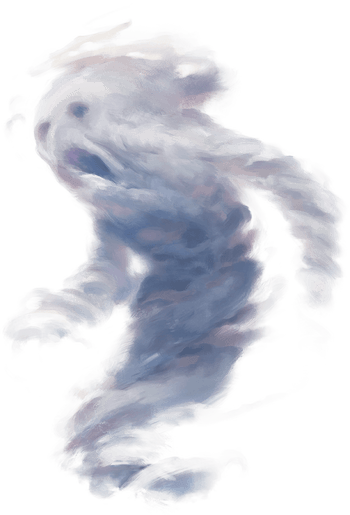 Small Air Elemental
Small elemental
Challenge
---
STR

1
DEX

2
CON

2
INT

−3
WIS

−1
CHA

0
---
Damage resistances concussion, lightning; bludgeoning, piercing, and slashing from nonmagical attacks
Damage immunities poison
Condition immunities bleeding, exhausted, grappled, paralyzed, petrified, poisoned, prone, restrained, unconscious
---
Speed 0 m., fly 5 m. (hover)
Skills Primal (cha) +1 (12)
Senses darkvision 10 m.
Languages Auran
---
Air Form. The small air elemental can enter a hostile creature's space and stop there. It can move through a space as narrow as 2 centimeters wide without squeezing.
Spellcasting. The small air elemental uses Primal (cha) to cast spells (spell save Difficulty 10, +1 to hit with spell attacks). It has 1 mana, a mana limit of 1, regains all expended mana when it finishes a long rest, and regains half its total mana when it finishes a short rest. It knows the following spells:
Cantrips (at will): gust
1 mana: averting gust, cyclone, feather fall, fog cloud, gale cloak, gust of wind, hover, levitate, steal breath, unburden, updraft, warding winds, whispering wind, winged flight, zephyr strike
Actions (1)
Slam. Melee Weapon Attack: +3 to hit. Hit: 4 (1d4 + 2) bludgeoning damage.
Desert, Elemental planessrd