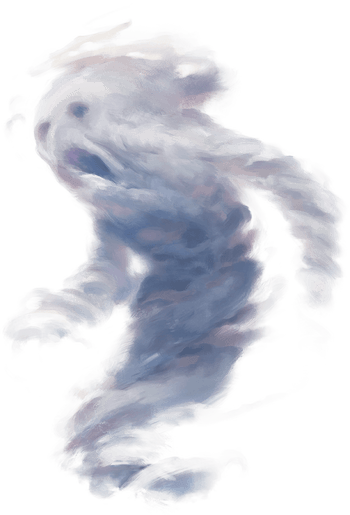 Small Air Elemental
Small elemental
Challenge

½
---
STR

1
DEX

2
CON

2
INT

−3
WIS

−1
CHA

0
---
Damage resistances concussion, lightning; bludgeoning, piercing, and slashing from nonmagical attacks
Damage immunities poison
---
Speed 0 m., fly 5 m. (hover)
Senses darkvision 10 m.
Languages Auran
---
Air Form. The elemental can enter a hostile creature's space and stop there. It can move through a space as narrow as 2 centimeters wide without squeezing.
Spellcasting. The small air elemental uses Primal (Cha) to cast spells (spell save Difficulty 10, +2 to hit with spell attacks). It has 1 mana, a mana limit of 1, regains all expended mana when it finishes a long rest and regains half its total mana (rounded up) when it finishes a short rest. It knows the following spells:
Cantrips (at will): gust
1 mana: averting gust, cyclone, feather fall, fog cloud, gale cloak, gust of wind, hover, levitate, steal breath, updraft, warding winds, whispering wind, winged flight, zephyr strike
Actions
Slam. Melee Weapon Attack: +4 to hit, reach 1 m. Hit: 4 (1d4 + 2) bludgeoning damage.