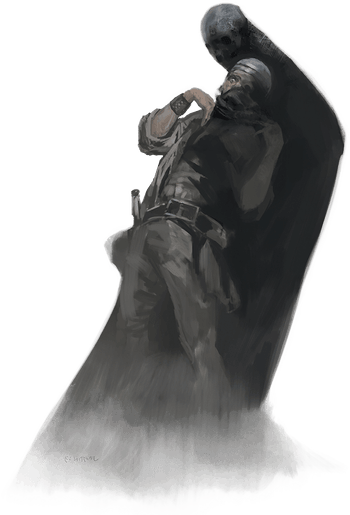 Shadow
Medium undead
Challenge
---
STR

−2
DEX

2
CON

1
INT

−2
WIS

0
CHA

−1
---
Damage vulnerabilities radiant
Damage resistances acid, cold, concussion, fire, lightning; bludgeoning, piercing, and slashing from attacks while in dim light or darkness
Damage immunities necrotic, poison
Condition immunities bleeding, charmed, burning, diseased, exhausted, frightened, grappled, paralyzed, petrified, poisoned, prone, restrained
---
Speed 8 m.
Skills Athletics −1 (10), Brawn −1 (10), Occult (cha) +0 (11), Perception +1 (12), Stealth +3 (14)
Senses darkvision 10 m.
---
Actions (2)
Strength Drain (1/turn). Melee Weapon Attack: +3 to hit. Hit: 9 (2d6 + 2) necrotic damage and the target's Strength is reduced by 1. The target dies if this reduces its Strength below −5. Otherwise, the reduction lasts until the target finishes a long rest.
If a non-evil humanoid dies from this attack, a new shadow rises from the corpse 1d4 hours later.
Shadow Blend (1/turn). While in dim light or darkness, the shadow can become invisible, along with anything it is wearing or carrying. The invisibility lasts until the shadow attacks, is in bright light, is incapacitated, or ends it on its turn (no action required).
Shadowfell, Underdark, Urbansrd