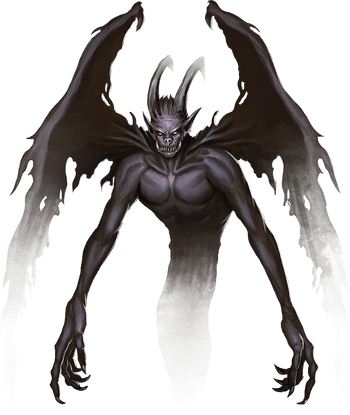 Shadow Demon
Medium fiend (demon)
Challenge

4
---
STR

−5
DEX

3
CON

1
INT

2
WIS

1
CHA

2
---
Damage vulnerabilities radiant
Damage resistances acid, concussion, fire, necrotic; bludgeoning, piercing, and slashing from attacks that aren't cold iron
Damage immunities cold, lightning, poison
---
Speed 5 m., fly 5 m.
Senses darkvision 20 m.
Languages Abyssal, telepathy 20 m.
---
Incorporeal Movement. The demon can move through other creatures and objects as if they were difficult terrain. It takes 5 (1d10) force damage if it ends its turn inside an object.
Light Sensitivity. While in bright light, the demon has disadvantage on attack rolls, as well as on Perception checks that rely on sight.
Actions
Claws. Melee Weapon Attack: +5 to hit, reach 1 m. Hit: 10 (2d6 + 3) psychic damage, or 17 (4d6 + 3) psychic damage if the demon had advantage on the attack roll.
mm
No concoctions, maneuvers, or spells
All creatures in this system should have maneuvers or spells. You should add some maneuvers or spells to this creature. If you do so, please make a suggestion on github so I can finish adding maneuvers and spells to all creatures via https://github.com/mlenser/kryx-rpg-issues/issues/9.