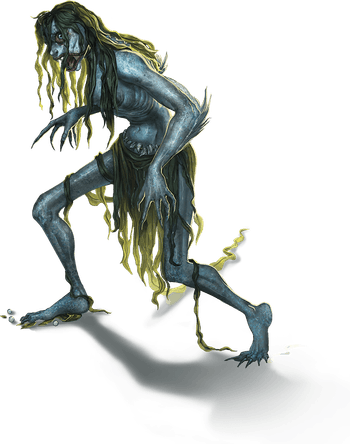 Sea Hag
Medium fey
Challenge

2
---
---
Defense note natural armor
Damage resistances bludgeoning, piercing, and slashing from attacks that aren't cold iron
---
Speed 5 m., swim 8 m.
Senses darkvision 10 m.
Languages Aquan, Common, Jotun
---
Actions (1)
Claws. Melee Weapon Attack: +4 to hit. Hit: 10 (2d6 + 3) slashing damage.
Death Glare. The sea hag targets one frightened creature she can see within 5 meters of her. If the target can see the sea hag, it must succeed on a Difficulty 13 Will saving throw against this magic or drop to 0 health.
Illusory Appearance. The sea hag covers herself and anything she is wearing or carrying with a magical illusion that makes her look like another creature of her general size and humanoid shape. The illusion ends if the sea hag dies or if she ends it on her turn (no action required).
The changes wrought by this effect fail to hold up to physical inspection. For example, the sea hag could appear to have smooth skin, but someone touching her would feel her rough flesh. Otherwise, a creature must use an action to visually inspect the illusion and succeed on a Difficulty 11 Perception check to discern that the sea hag is disguised.
Coastal, Feywild, Underwatersrd