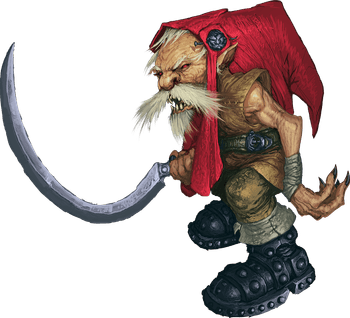 Redcap
Small fey
Challenge

3
---
STR

4
DEX

1
CON

4
INT

0
WIS

1
CHA

−1
---
Defense note natural armor
Damage resistances bludgeoning, piercing, and slashing from attacks that aren't cold iron
---
Speed 5 m.
Senses darkvision 10 m.
Languages Common, Sylvan
---
Iron Boots. While moving, the redcap has disadvantage on Stealth checks.
Maneuvers. The redcap uses maneuvers (maneuver save Difficulty 14). It has 6 stamina dice which are d8s, a dice limit of 1, regains all expended stamina dice when it finishes a long rest, and regains half its total stamina dice when it finishes a short rest. It knows the following maneuvers:
1 stamina die: bloodletting blade, cripple, fan of knives, grievous wound, nimble, spring attack
Outsize Strength. While grappling, the redcap is considered to be Medium. Also, wielding a heavy weapon doesn't impose disadvantage on its attacks.
Actions (3)
Wicked Sickle. Melee Weapon Attack: +5 to hit. Hit: 9 (2d4 + 4) slashing damage.
Dagger. Melee or Ranged Weapon Attack: +5 to hit, reach 1 m. or range 3/10 m. Hit: 6 (1d4 + 4) piercing damage.
Feywild, Forest, Hill, Swampvgtm