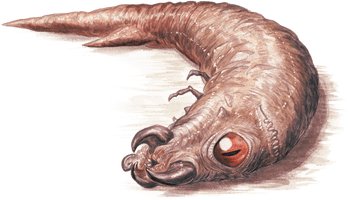 Piercer
Medium monstrosity
Challenge

½
---
STR

0
DEX

1
CON

3
INT

−5
WIS

−2
CHA

−4
---
Defense note natural armor
---
Speed 1 m., climb 1 m.
Senses blindsight 5 m., darkvision 10 m.
---
False Appearance. While the piercer remains motionless on the ceiling, it is indistinguishable from a normal stalactite.
Spider Climb. The piercer can climb difficult surfaces, including upside down on ceilings, without needing to make an ability check.
Actions
Drop. Melee Weapon Attack: +3 to hit, reach 1 m., one creature directly underneath the piercer. Hit: 3 (1d6) piercing damage per 2 meters fallen, up to 21 (6d6). Miss: The piercer takes half the normal falling damage for the distance fallen.
Underdarkmm
No concoctions, maneuvers, or spells
All creatures in this system should have maneuvers or spells. You should add some maneuvers or spells to this creature. If you do so, please make a suggestion on github so I can finish adding maneuvers and spells to all creatures via https://github.com/mlenser/kryx-rpg-issues/issues/9.