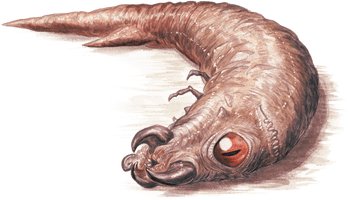 Piercer
Medium aberration
Challenge

½
---
STR

0
DEX

1
CON

3
INT

−5
WIS

−2
CHA

−4
---
Defense note natural armor
---
Speed 1 m., climb 1 m.
Senses blindsight 5 m., darkvision 10 m.
---
False Appearance. While the piercer remains motionless, it is indistinguishable from an ordinary cave formation such as a stalactite or stalagmite.
Maneuvers. The piercer uses maneuvers (maneuver save Difficulty 11). It has 2 stamina dice which are d8s, a dice limit of 1, regains all expended stamina dice when it finishes a long rest, and regains half its total stamina dice when it finishes a short rest. It knows the following maneuvers:
1 stamina die: ambush
Spider Climb. The piercer can climb difficult surfaces, including upside down on ceilings, without needing to make a skill check.
Actions (1)
Drop. Melee Weapon Attack: +2 to hit., one creature directly underneath the piercer. Hit: 3 (1d6) piercing damage per 2 meters fallen, up to 21 (6d6). Miss: The piercer takes half the normal falling damage for the distance fallen.
Underdarkmm
Maneuvers
As an action, you can use Stealth without using an action. Additionally, before the end of your next turn, you can add the stamina die to an attack's damage (add half on a miss by 4 or less) if you have advantage on the attack, or if the creature is within 1 meter of an enemy of the creature that isn't incapacitated and you don't have disadvantage on the attack.
Enhance
You can increase the damage for each additional stamina die expended.