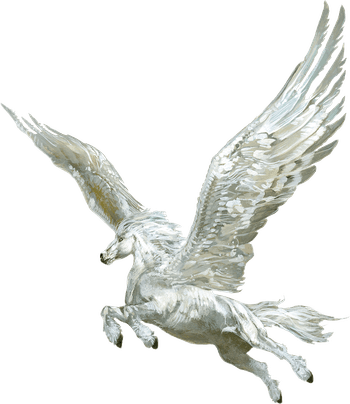 Pegasus
Large celestial
Challenge
---
---
Damage resistances bludgeoning, piercing, and slashing from attacks that have not been desecrated with the blood from a celestial or humanoid killed within the past 24 hours
---
Speed 10 m., fly 20 m.
Skills Athletics +5 (16), Brawn +5 (16), Perception +3 (14)
Languages understands Celestial, Common, Elvish, and Sylvan but can't speak
---
Maneuvers. The pegasus uses maneuvers (maneuver save Difficulty 14). It has 5 stamina dice which are d8s, a dice limit of 1, regains all expended stamina dice when it finishes a long rest, and regains half its total stamina dice when it finishes a short rest. It knows the following maneuvers:
1 stamina die: dive attack, knockback, spring attack, sprint, trampling charge
Actions (1)
Hooves. Melee Weapon Attack: +5 to hit. Hit: 11 (2d6 + 4) bludgeoning damage.
Forest, Grassland, Hill, Upper planessrd