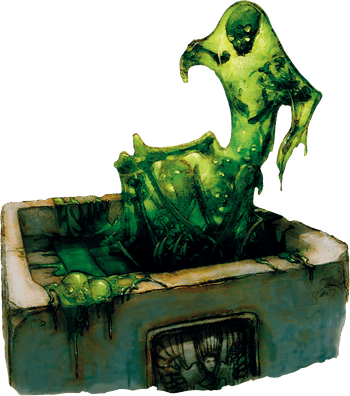 Oblex Spawn
Tiny ooze
Challenge

¼
---
STR

−1
DEX

3
CON

2
INT

2
WIS

0
CHA

0
---
---
Speed 4 m.
Senses blindsight 10 m. (blind beyond this distance)
---
Amorphous. The oblex can move through a space as narrow as 2 centimeters wide without squeezing.
Aversion to Fire. If the oblex takes fire damage, it has disadvantage on attack rolls and ability checks until the end of its next turn.
Spellcasting. The oblex spawn uses Psionics (Int) to cast spells (spell save Difficulty 12, +4 to hit with spell attacks). It has 1 mana, a mana limit of 1, regains all expended mana when it finishes a long rest and regains half its total mana (rounded up) when it finishes a short rest. It knows the following spells:
Cantrips (at will): distract, mind thrust
1 mana: agonizing rebuke, call to mind, mind spike, sense minds
Actions
Pseudopod. Melee Weapon Attack: +5 to hit, reach 1 m. Hit: 5 (1d4 + 3) bludgeoning damage plus 2 (1d4) psychic damage.
Swamp, Underdark, Urbanmtof
No concoctions, maneuvers, or spells
All creatures in this system should have maneuvers or spells. You should add some maneuvers or spells to this creature. If you do so, please make a suggestion on github so I can finish adding maneuvers and spells to all creatures via https://github.com/mlenser/kryx-rpg-issues/issues/9.